Let's start with everyone's favorite meal – Dessert! Below you will find recipes, submitted by residents, for every craving.
PUERTO RICAN RICE PUDDING
1 ½ pound of middle grain rice
1 ½ pound of sugar
½ coconut ( cut in small pieces )
2 cans of coconut milk
1 ½ cup of evaporated milk
2 stick of salted butter
2 small enveloped of anise
6 sticks of cinnamon
2 small enveloped of cloves
1 head of ginger
2 small boxes of raisins
8 cups of water
2 spoon of vanilla
DIRECTIONS
Cook the white rice with one stick of butter. Add more salt to taste. Put enough water so the rice do not stick to the bottom of the pan. The rice is has to be a sticky. When is done put apart.
In a big pan boiled water with or the spices include the ginger, boiled about 15 minutes in slow heat. Strain this water.
In a big pan add the coconut milk, evaporated milk, one stick of butter, the strain water, sugar. coconut pieces, vanilla and raisins. Let this mixture boiled.
Using a big spoon add the rice one by one at a time. Using a hand batter, mix rice until the mixture is thick, but not too thick.
Immediately in put plates. Pour ground cinnamon on the top to garnished.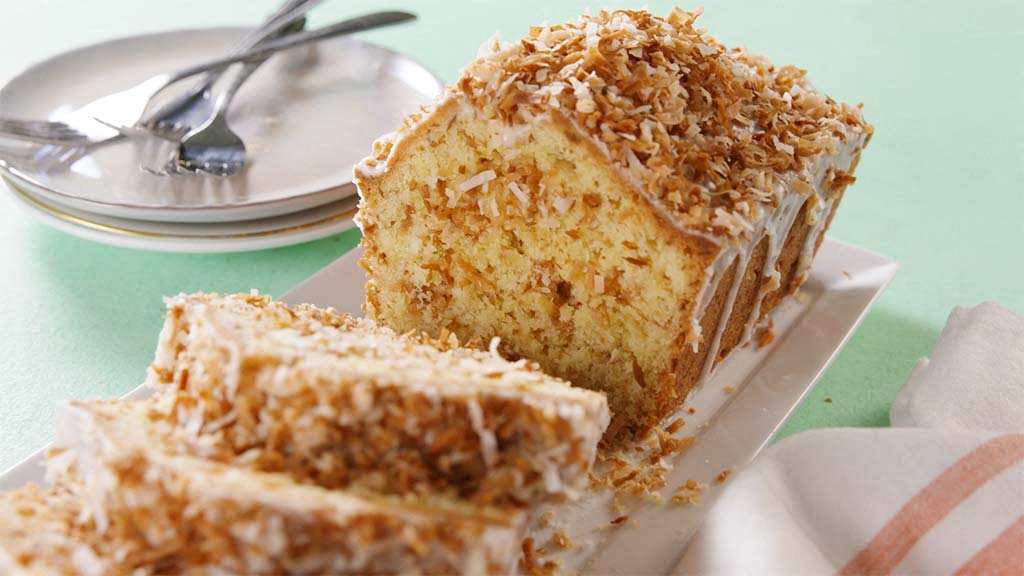 Coconut pound cake
1 cup shortening
3 cups sifted flour
6 eggs
1 cup butter
1 cup milk
2 cups grated fresh or flaked coconut
3 cups sugar
1/2 teaspoon almond extract
1/2 teaspoon coconut extract
grease a 10 inch tub pan
Separate eggs, place whites in a large bowl, yolks in another large bowl. Let egg whites rest to room temperature- about an hour.
Preheat oven to 300 degrees.
With mixer on high speed beat egg yolks with shortening and butter until well mixed. Gradually add sugar until light and fluffy. Add extracts, beat until mixed well.
At low speed beat flour, alternately with milk, beginning and ending with flour. Add coconut mix well.
Beat egg whites until stiff peaks form. With wire whisk or rubber scraper gently fold whites into batter until well combined.
Pour batter into greased pan, bake 2 hours. Makes 12 to 16 servings
Note, this cake has a nice macaron top.
Zucchini bread
Preheat oven to 350 degrees
3 eggs
2 cups sugar
1 cup vegetable oil
2 cups grated zucchini
3 teaspoons vanilla
3 cups flour
1 teaspoon salt
1/4 teaspoon baking powder
2 teaspoon cinnamon
1/2 cup Nuts if desired
Mix together eggs, sugar, oil, zucchini and vanilla until well blended.
Mix flour, salt, baking powder and cinnamon together. Add to wet batter mixing well. Makes 2 loaf pans
Bake at 350 for 1 hour.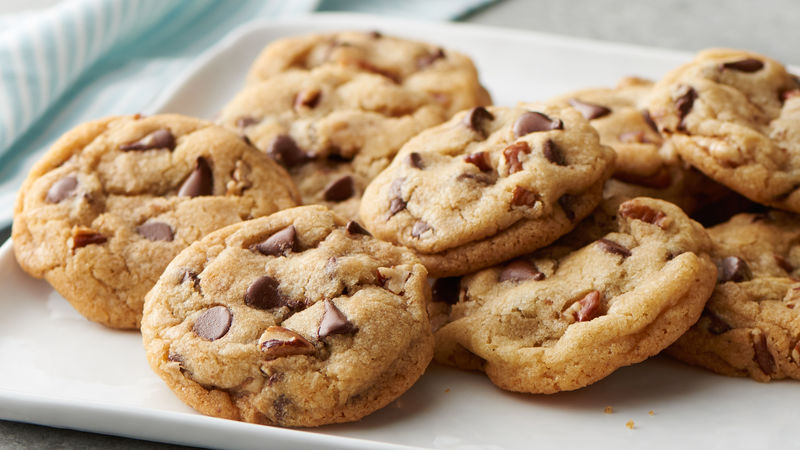 The Best Chocholate Chip Cookies
Ingredients for 12 cookies
½ cup granulated sugar
¾ cup brown sugar, packed
1 teaspoon salt
½ cup unsalted butter, melted
1 egg
1 teaspoon vanilla extract
1 ¼ cups all-purpose flour
½ teaspoon baking soda
4 oz milk or semi-sweet chocolate chunks
4 oz dark chocolate chunk, or your preference
Preparation
In a large bowl, whisk together the sugars, salt, and butter until a paste forms with no lumps.
Whisk in the egg and vanilla, beating until light ribbons fall off the whisk and remain for a short while before falling back into the mixture.
Sift in the flour and baking soda, then fold the mixture with a spatula (Be careful not to overmix, which would cause the gluten in the flour to toughen resulting in cakier cookies).
Fold in the chocolate chunks, then chill the dough for at least 30 minutes. For a more intense toffee-like flavor and deeper color, chill the dough overnight. The longer the dough rests, the more complex its flavor will be.
Preheat oven to 350°F (180°C). Line a baking sheet with parchment paper.
Scoop the dough with an ice-cream scoop onto a parchment paper-lined baking sheet, leaving at least 4 inches (10 cm) of space between cookies and 2 inches (5 cm) of space from the edges of the pan so that the cookies can spread evenly.
Bake for 12-15 minutes, or until the edges have started to barely brown.
Cool completely before serving.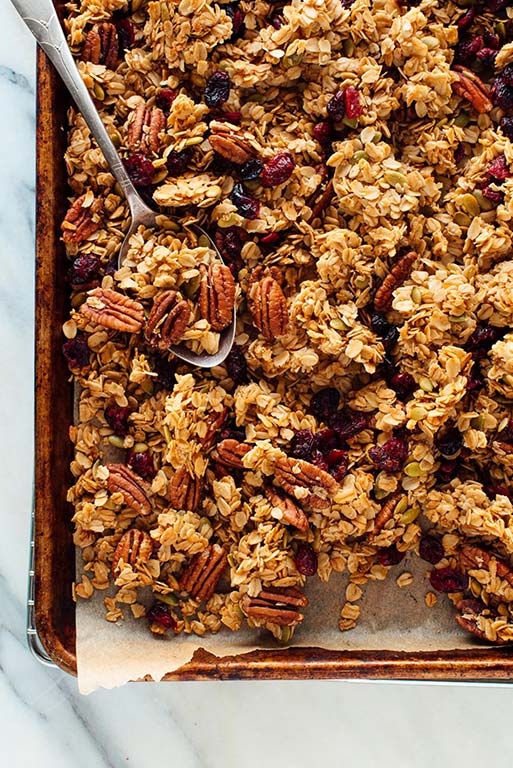 The Very Best Granola



Ingredients
4 cups old-fashioned rolled oats (use certified gluten-free oats for gluten-free granola)
1 ½ cup raw nuts and/or seeds (I used 1 cup pecans and ½ cup pepitas)
1 teaspoon fine-grain sea salt (if you're using standard table salt, scale back to ¾ teaspoon)
½ teaspoon ground cinnamon
½ cup melted coconut oil or olive oil
½ cup maple syrup or honey
1 teaspoon vanilla extract
⅔ cup dried fruit, chopped if large (I used dried cranberries)
Totally optional additional mix-ins: ½ cup chocolate chips or coconut flakes*
Instructions
Preheat oven to 350 degrees Fahrenheit and line a large, rimmed baking sheet with parchment paper.
In a large mixing bowl, combine the oats, nuts and/or seeds, salt and cinnamon. Stir to blend.
Pour in the oil, maple syrup and/or honey and vanilla. Mix well, until every oat and nut is lightly coated. Pour the granola onto your prepared pan and use a large spoon to spread it in an even layer.
Bake until lightly golden, about 21 to 24 minutes, stirring halfway (for extra-clumpy granola, press the stirred granola down with your spatula to create a more even layer). The granola will further crisp up as it cools.
Let the granola cool completely, undisturbed (at least 45 minutes). Top with the dried fruit (and optional chocolate chips, if using). Break the granola into pieces with your hands if you want to retain big chunks, or stir it around with a spoon if you don't want extra-clumpy granola.
Store the granola in an airtight container at room temperature for 1 to 2 weeks, or in a sealed freezer bag in the freezer for up to 3 months. The dried fruit can freeze solid, so let it warm to room temperature for 5 to 10 minutes before serving.